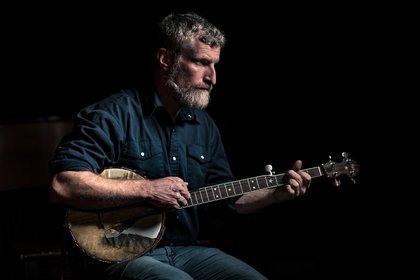 May 26, 2018
noon - 3:30 p.m.
$20 for one workshop, $35 for both!! What a deal!!!
NOON-1:30: Building Tunes from the Ground Up (Intermediate/Advanced)
Understanding your clawhammer "tools" and how they work is the key to being able to break free of tab, learn tunes by ear, and come up with your own arrangements of any tune. We'll break down what the tools are, how they work, and look at a systematic approach to working up arrangements of tunes in layers.
2:00-3:30 - Introduction to FDGCD tuning...How, what and why (Intermediate/Advanced)
We'll look at this versatile and beautiful F tuning. I'll show you how it works, and why after double C and G tuning, this is the most useful tuning to be familiar with. We'll even learn a tune or two in the process.
Note - Chris will provide tablature and handouts for everything we cover in both these workshops. They are geared towards intermediate students (to advanced). A beginner could get a lot out of Building Tunes from the Ground Up as the overview will help you understand the elements of clawhammer, even if you can't play them all yet.
PLEASE CALL THE STORE or EMAIL COUNTER@BERNUNZIO.COM (585)-473-6140 TO RESERVE A SPOT!!!
Share this Event on Facebook.