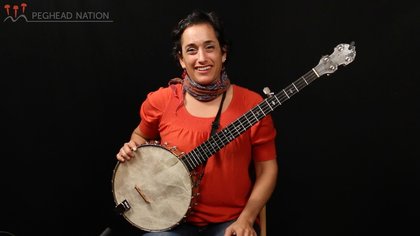 Nov. 18, 2017
noon - 1:30 p.m.
What is that rhythmic whomp that makes clawhammer banjo so funky? Evie Ladin marries melody, harmony & rhythm in a distinctive style that drives tunes along, and gives depth to songs. A patient and experienced teacher with a rooted traditional repertoire and knowledge of current trends - Evie gives all levels of players something to take away. Students should have the basic bum-diddy and be ready to learn some tunes and licks. Evie Ladin is a featured instructor at the on-line Peghead Nation subscription music school, and founded and leads the clawhammer banjo program at the infamous Freight & Salvage in Berkeley. A seasoned performer, she is playing the Golden Link concert series Friday November 17 with partner Keith Terry; and other dates in upstate NY. www.evieladin.com
Tickets are $25 and can be purchased by calling 585-473-6140.
Evie Ladin grew up with traditional American music and dance, playing clawhammer banjo and clogging at music festivals all over the East Coast with her sister Abby. Her family's home was a hostel for musicians and dancers travelling from the South during the first Folk Music Revival. John Cohen of the New Lost City Ramblers put a banjo in her hands at age 8, then she took lessons from a young Bob Carlin for several years. Evie has been playing ever since in concert, at square dances and fiddlers conventions – breaking out as a songwriter with a clever, evocative style on the instrument, often adding percussive dance into the fabric of the music. For eight years she was based in Bloomington, IN, touring nationally with the music and dance ensemble Rhythm In Shoes. Now in the San Francisco Bay Area, Evie appears as a versatile banjo player, percussive dancer, singer, songwriter and square dance caller. She performs solo, duo with Keith Terry, and with her expansive stringband Evie Ladin Band, as well as 13 years with the all-gal old-time stringband The Stairwell Sisters (www.stairwellsisters.com), and Keith Terry's group Crosspulse (www.crosspulse.com), musically connecting the banjo with it's African roots. She has been seminal in that organization's founding of the International Body Music Festival. She has released three CDs with the Stairwell Sisters on and three CDs of her original music. Her style is similar to Round Peak playing, and is highly percussive in nature.
Share this Event on Facebook.