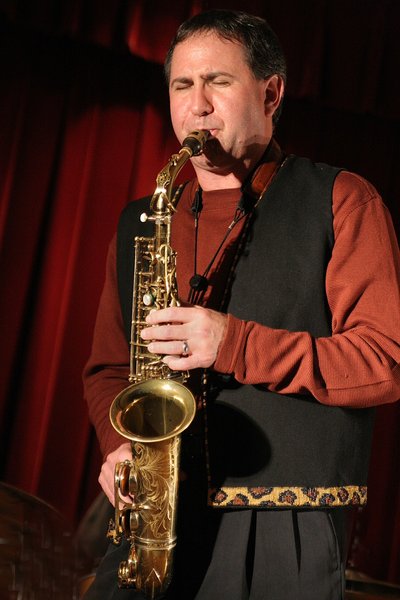 Feb. 7, 2015
8 p.m. - 10 p.m.
The Bob Sneider Trio with David Glasser at Bernunzio Uptown Music
Saturday, February 7th, 8PM, $12
Tickets are $12, and are available in-person or by phone at (585) 473-6140
In straight-ahead jazz circles, native New Yorker Dave Glasser is perhaps best known for his extensive work as a sideman for veteran trumpeter/flügelhornist Clark Terry. The alto saxophonist (who shouldn't be confused with engineer David Glasser or classical clarinetist David Glazer) is an unapologetic bebopper; his alto playing owes a lot to the seminal Charlie "Bird" Parker and his disciples (including Sonny Stitt and Gigi Gryce), and he obviously loves the swift, exhilarating bebop chord changes of the '40s and '50s. But Glasser's tone is also influenced by some of the alto players who emerged during jazz's pre-bop, pre-Bird era, including Benny Carter and longtime Duke Ellington associate Johnny Hodges (both of whom were among Bird's influences). Glasser, however, is not a swing revivalist; the Carter and Hodges influence has to do with Glasser's intonation rather than the way he improvises and plays chord changes.
It should also be noted that even though Glasser essentially comes from the Parker/Stitt/Gryce/Phil Woods/Frank Morgan school of bop alto playing, he isn't oblivious to the more subtle and understated players who came out of jazz's cool school. Various reviewers have noted that they hear traces of Lee Konitz and Paul Desmond, two of cool jazz's most important alto saxophonists, in Glasser's playing; that is especially true on ballads and medium-tempo performances. Not everyone who has affected Glasser's tone is a full-time alto saxman; hints of cool-toned tenor sax great Stan Getz (whose greatest influence was the innovative Lester "Pres" Young) and the talented but underexposed Dave Schildkraut can also assert themselves during a Glasser solo. And when one adds up this long list of influences -- Parker, Stitt, Schildkraut, Gryce, Carter, Hodges, Konitz, Desmond, Getz, among others -- the end result is an improviser who isn't innovative or groundbreaking but is still his own man.
Growing up in the Big Apple,
Glasser
attended the Fiorello H. LaGuardia High School of Music and the Arts as a teenager; he went on to receive a master's degree from the Eastman School of Music in Rochester, NY.
Glasser
's playing was first documented in 1987, when he was featured on pianist
Bill Dobbins
' B.D. album on the Equinox label. From 1989-1991,
Glasser
was a member of the
Count Basie
ghost orchestra (under the direction of longtime
Basie
tenor man
Frank Foster
), and the early to mid-'90s found him serving as the lead alto in tenor honker
Illinois Jacquet
's band. It was in 1995 that
Glasser
joined
Clark Terry
's quintet; another famous bebopper he has played with extensively is pianist
Barry Harris
.
Glasser
's first album as a leader came in 2000, when Uh! Oh! was released by the German Nagel-Heyer label. That CD was followed by the saxman's sophomore outing,
Dreams Askew, Dreams Anew
(which came out on Artemis in 2002 and featured
Harris
) and 2003's
Begin Again
, a Chiaroscuro release.
Standards: Green and Blue
and
Above the Clouds
both appeared in 2006. Evolution (2009) and Crossover
Bob Sneider (Eastman School of Music Asst Prof Jazz Guitar / Sr. Instr. Eastman Community Music School)
Before joining the Eastman faculty in late 1997, Sneider toured for several years with two-time Grammy Award winner Chuck Mangione. Other notable performers with whom Sneider has performed, toured or recorded include: Nat Adderley, Joe Locke, Don Menza, Lou Donaldson, Joey Defrancesco, Pat Bianchi, Gary Versace, Pat Labarbara, Joe Locke, Grant Stewart, Ken Peplowski, Gerry Niewood, Chris Potter, Roy McCurdy, Eric Alexander, David Hazeltine, Frank Strazzerri, Jon Faddis, Keeter Betts and frequent appearances with the Rochester Philharmonic Orchestra Pops(guitar/banjo). Sneider has performed in major festivals, concert halls and jazz clubs throughout South America, Central America, North America and Europe. Sneider is a graduate of the University of Rochester where he studied with Bill Dobbins and Ramon Ricker. Growing up in Brockton, MA, Sneiders mentor and teacher was Chet Kruley - a veteran of the Fletcher Henderson, and Nat Pierce bands.

Sneider has several solo and co-led cd projects that have received rave reviews and international airplay: Introducing Bob Sneider(self produced), Out of the Darkness(Sonsofsound), duo projects with pianist Paul Hofmann - Interconnection(Sonsofsound) and Escapade(Sonsofsound) and Serve & Volley(Origin), The Bob Sneider/Joe Locke Film Noir Project - Fallen Angel(Sonsofsound) and Nocturne for Ava(Origin), All Through The Night(RIJF). Several of his students have won major jazz competitions and attended renowned institutes: YoungArts, DownBeat, Grammy National Band, The Brubeck Institute, Kennedy Center / Jazz Ahead. Bob's newest CD is co-led with his brother John: The Sneider Brothers "The Brockton Beat" - featuring Gary Versace(hammond organ), Mike Melito(drums) and Curtis Stigers(guest vocalist).
Share this Event on Facebook.