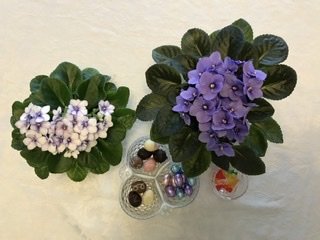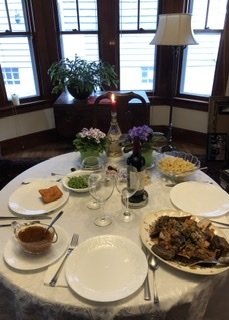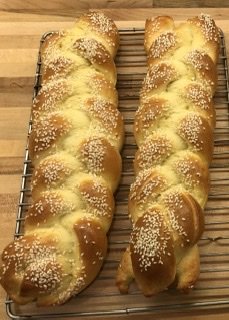 Quarantine gives lots of time for creativity.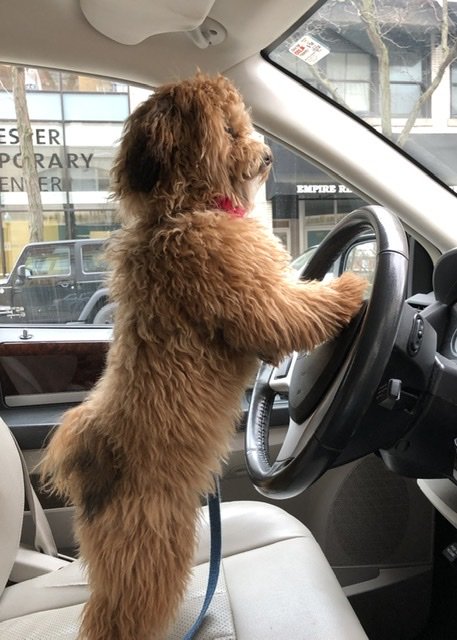 Our grand doggy Penny drove us to the store
Newsletter
April 13th, 2020
Good Morning friends,
While we continue to be in "lockdown" and the retail store essentially closed down, we are operating on a daily basis in the manner that we did for the 30 years before we opened the store. We are doing what we always did best...mail ordering instruments and parts worldwide. Our great staff has found creative ways to operate during these extremely stressful and difficult times. We are offering curbside pick up and 48 hour local approval so that someone could pick up an instrument try it out for a couple of days at home and make sure they like it and if not we can return it for a full refund. We are also doing local deliveries where possible. Additionally, on Saturday, Julie organized a Zoom meeting of her ukulele support group. Forty-five people joined in and had a great time. That led me to think that this whole pandemic event of the past months may have an upside. There will be new ways of looking at things:
Business: Though it may take at least 18 months to right itself, I believe businesses will come back if they invent new ways of doing things. I think mail order will move to the forefront of the way people purchase things but above all, creativity will be the best hope for success.
Education: As a former teacher and a proud father of two teachers, I've always had a keen interest in education. My daughters are teaching school every day in a completely new format. It's uncomfortable, it's disconcerting, it does not replace personal contact, but it is revolutionary it will change the way we impart learning.
Science: The keen interest in science and how it's going to get us out of this predicament has been in the forefront of the news also. Scientists working across the global borders and helping each other's nation find solutions to mutual problems will have a long reaching impact on how we approach problems in the future. Perhaps we will learn to value science over politics. Everyday we are presented with evidence of the effect of humanity on the environment. Look no further than the photos of the canals in Venice or the satellite images of the lifting of air pollution over major cities worldwide. Human quarantines have limited travel, hence reducing the use of fossil fuels.
Government: The importance of government and how it is planning to protect its population is something that people can debate the pros and cons of. In America, we have a lot of freedom of movement. That has been our pride and joy. Right now many people feel infringed upon because of this quarantine. I believe all in government are trying to do their best to save as many souls as possible. On the other end of this pandemic will see politicians reevaluating the role of government in protecting its citizens and working closely with other governments as the world continues to shrink.
Values: All of our values have been questioned. While sitting alone inside and cooped up, we will all have had a lot of time to think about what is important in our lives. I am certain that we will all come out of this reevaluating our priorities and realizing the importance of family and interpersonal connection.
Continue to buy instruments: We at Bernunzio's will continue to buy and sell musical instruments. It's what we've been doing for 45 years it is what we know how to do best. If you have something to sell we are certainly ready to purchase it, if you are thinking of making a purchase let us know and we can have something on your doorstep in a short time for your approval with FREE shipping.
Plan our next trip: Last of all I would like to say that similar to the events of September 11, the events of today are having a big impact upon me personally. In the weeks following September 11th, after much contemplation and thought, I decided to go ahead and put a long planned addition on my house and do other exciting projects because I could not sit still. I have not told Julie this yet, but I'm planning my next trip to Sicily as soon as the air clears.
Stay safe,
John Bernunzio
A ZOOM Easter morning with the family.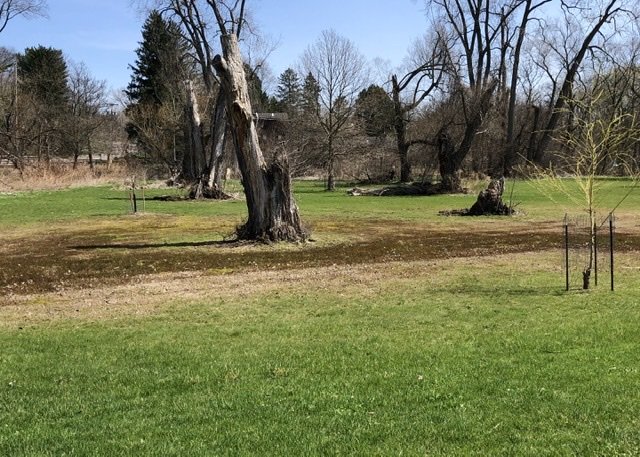 New growth aside dying trees.....the cycle of life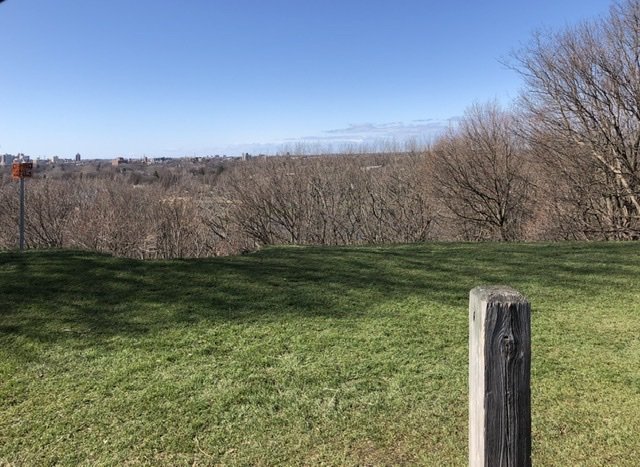 Alone at Cobbs Hill Park overlooking the city of Rochester