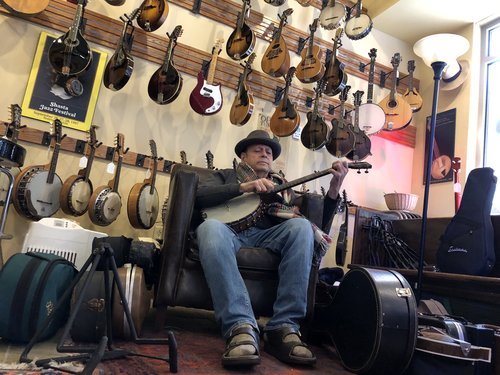 Back in the saddle again...noodling on an OME Eclipse that just arrived. With its slotted peghead and wide neck, this is a superlative old timey banjo that we ordered a year ago!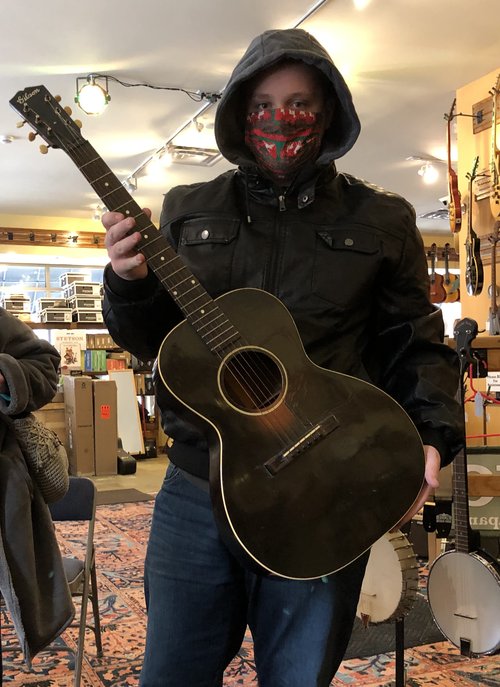 This absolutely beautiful, 1935 Gison L-0 walked in the store on Saturday. It was brought in by the grandchild and great-grandchild of the original owner and it's been in the family since new. Great grandpa had bought it for $22.50 and played in a dance band in Elmira! The family decided to hang onto it for a little bit longer after they got our verbal appraisal. Someone asked me recently the difference between old guitars and new guitars and how are you tell the difference between modern fakes and authentic instruments. I replied, " A new guitar can approximate the sound of an old one but it will never smell right. You have to use all of your senses in determining whether something is original."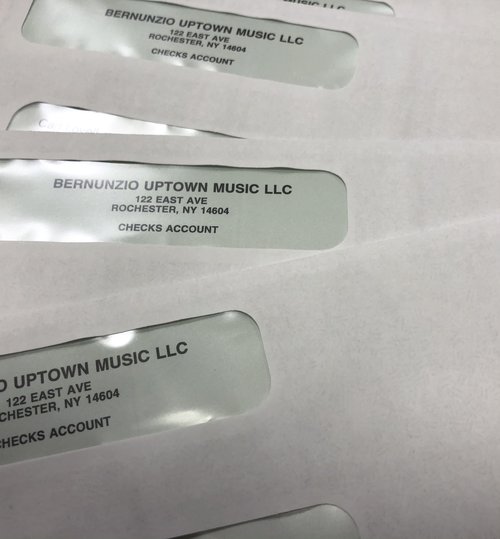 Part of my weekend job was stuffing envelopes with checks for consignment payments all over the world. Let us sell your guitar, banjo or mandolin for you and get a check in the mail!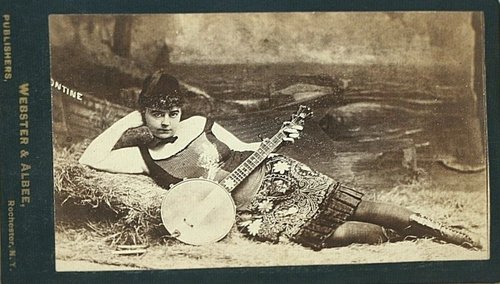 Banjo ladies from Rochester, NY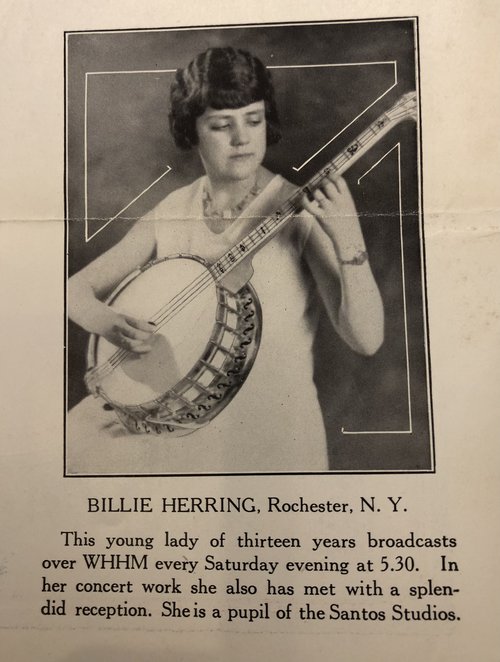 Banjo ladies from Rochester, NY
NEWSLETTER surgeon versus physical therapist
March 8th, 2021
Good Morning Folks,
This past weekend I spent a lot of time at the store. I'm hobbling around but able to walk freely without much assistance and have enjoyed a new view from my corner. Saturday's we are open for business and lots of folks stopped in who I hadn't seen in over a year. Sometimes it's hard to tell who someone is when they're wearing a mask and they haven't had a haircut in 12 months, but as soon as they start talking a light goes on. It's interesting that when one sense is shut off or curtailed, the other senses key in information.

On Monday I'm scheduled for my first coronavirus vaccine. Right here at the local CVS in Penn Yan, only a few blocks away. Everything is close-by down here and I am really beginning to love it. It makes it difficult when we leave and go back to Rochester. Not that I don't like Rochester. It's great to see my kids and spend a little time there but I miss the peace. No expressways, no lines, no angry honking, no parking issues and less choices which contributes to the simplification process.

Surgeons vs Lifetime Care physical therapist: I had my seven week check up with the doctor after having total knee replacement. The consensus is that I'm making excellent progress and can bend my knee to 120° and can climb stairs. However I still have lots of other back and leg issues because of improper balance and walking over the course of many years. I mentioned a couple of things to the surgeon. I said there was a clicking noise in my knee and he looked at me quizzically and said, "well it is plastic you know". About the new pains in the back, he simply replied "I am the surgeon I do knees". There seem to be no sense of the total care of the whole person. This man performs 4-6 surgeries a day at $15-$20,000 apiece but the best care that I received was from, Carol, the physical therapist. She came to the house twice a week. She seemed to have an awareness of the total person and all the things that might be affected not just rehabilitating a surgical procedure. She gave me exercises to do that will strengthen my back and consequently improve my entire balance. I am sure that her six weeks of visiting she didn't make what one surgery paid!!
Sincerely,
John Bernunzio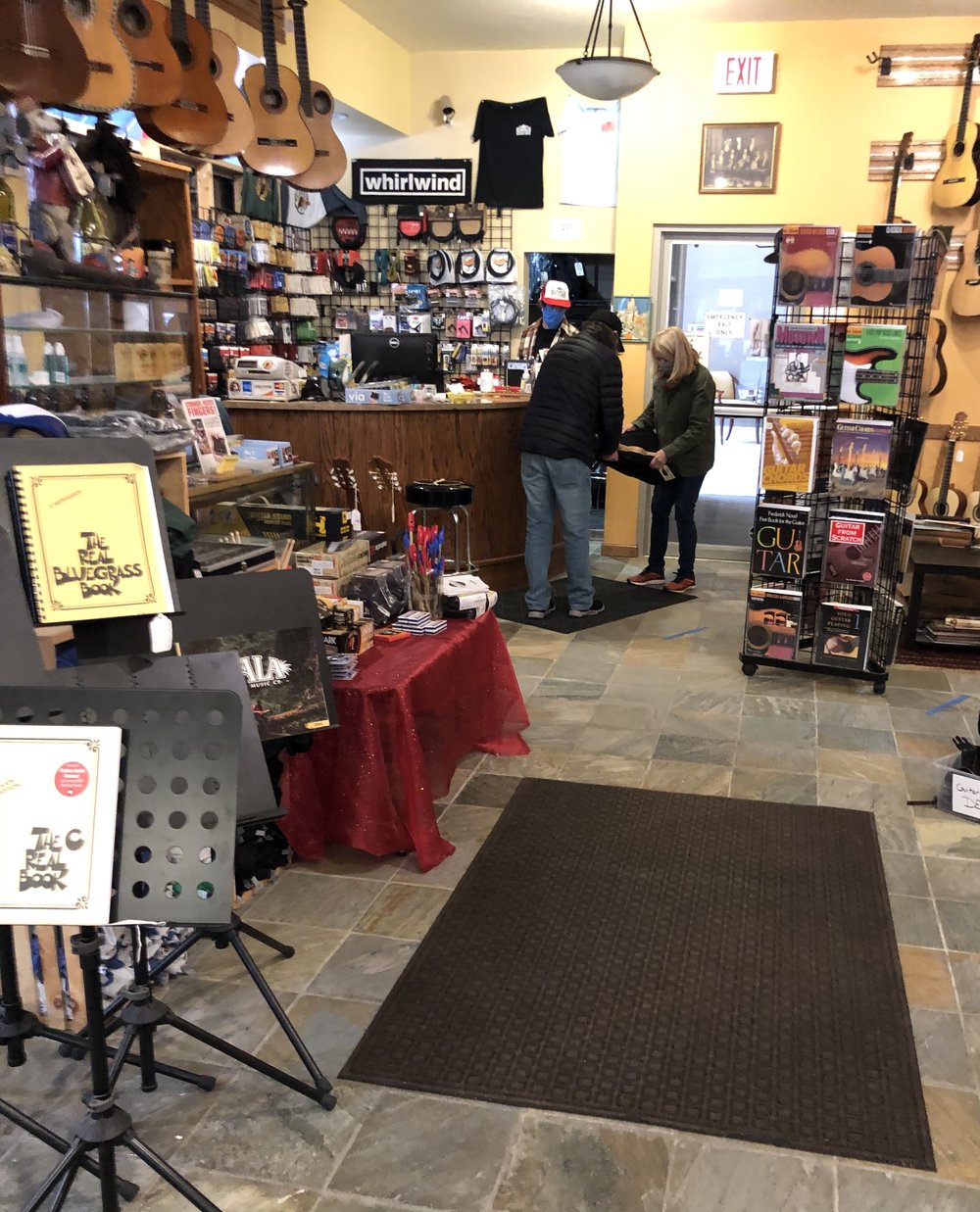 Julie helps a customer with a purchase of a ukulele. It was great to see old friends on Saturday. A little bit of "guitar hang out" on the weekend.
Soren Venema, a dealer and collector and owner of Palm Guitars in Amsterdam, passed away last week. We finally met in 2019 but we had known of each other for many, many years. We sat at his place outside of Amsterdam viewing so many incredible instruments. I received a notice on Facebook that it was his birthday last week. I went to his page and found out he had passed away a few days before, unexpectedly. He was a legend in the instrument world and will be greatly missed.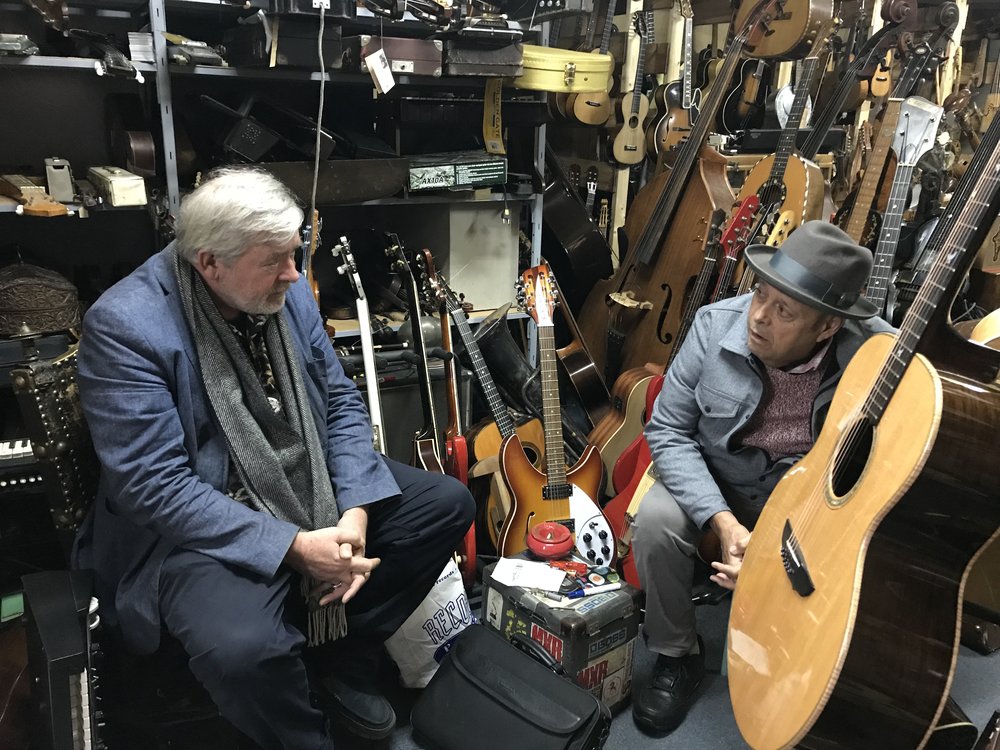 Soren and John at Palm Guitar in 2019..