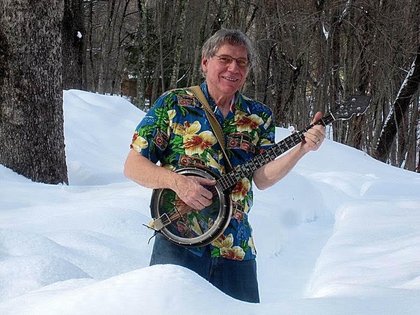 May 22, 2019
7 p.m. - 9 p.m.
Rochester Folkus – Rochester's premier folk, blues, and bluegrass listening venue, will present its next concert of the 2019 season with a performance by Howie Bursen on Wednesday, May 22, 2019. The concert will be held at the Downstairs Cabaret Theatre, 20 Windsor Street, Rochester, NY. All concerts begin at 7 pm and occur on the 2nd and 4th Wednesdays of every month (with occasional exceptions). Reservations are accepted (but not required) and can be made by calling 585-325-4370. For more information go to https://www.facebook.com/RochesterFolkus or www.DownstairsCabaret.com. Admission is $10.
Howie Bursen is clearly one of the finest clawhammer banjo players on the planet. His intricate arrangements of traditional and original fiddle tunes have astonished audiences for years, but what many don't know is that he is a wonderful singer, guitar player, and songwriter as well. His extensive repertoire includes traditional, contemporary, and original songs of every flavor, and audiences are encouraged to sing along or just tap their feet and clap their hands. Chicago Magazine has written, "Stunning guitar arrangements, …easily one of the finest banjo players ever heard". Come for to Sing writes, "The guy's a genius". Howie has just recorded a new CD, so come hear and enjoy one of folk's truly unique performers.
Share this Event on Facebook.