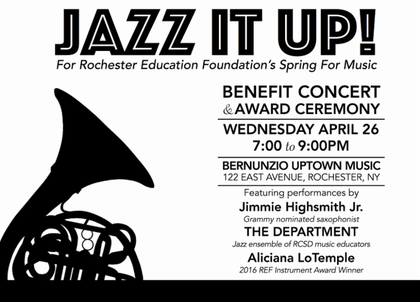 April 26, 2017
7 p.m. - 9 p.m.
Join us for Rochester Education Foundation's 3rd annual JAZZ IT UP fundraising event! All proceeds benefit REF's
Spring ForMusic Program which provides instruments, summer lessons, and performance opportunities
to aspiring Rochester City School District student musicians.This year's event will feature performances by Jimmy
Highsmith, THE DEPARTMENT and Aliciana LoTemple, an award ceremony honoring a gifted Rochester
City School District musician, and a wine and cheese reception.
Tickets are available for $25 and seating is limited.
Visit rochestereducation.org or call 585-271-5790 for more information.
Share this Event on Facebook.