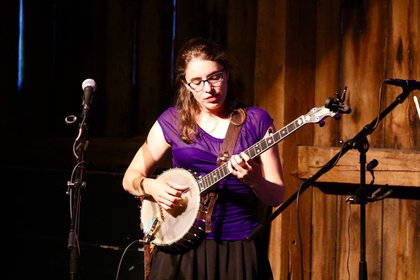 Oct. 6, 2018
2:30 p.m. - 3:30 p.m.
Michelle Younger's Intermediate Clawhammer Banjo Workshop: Saturday, October 7 2:30-3:30PM $20

We are delighted to welcome our good friend Michelle Younger back for a workshop in intermediate clawhammer banjo. Michelle will teach the advancing banjoist how to "kick it up a notch" with some advanced techniques and will have some "new" tunes to teach.
Reservations are $20, and are strongly encouraged. Call (585) 473-6140, stop by the store at 122 East Avenue, or email info@bernunzio.com to claim your spot today.
PARTICIPANTS OF MICHELLE'S BANJO WORKSHOP MAY RECEIVE AN ADDITIONAL 10% DISCOUNT ON ALL STRINGS OR ACCESSORIES ON THE DAY OF THE WORKSHOP.
Share this Event on Facebook.