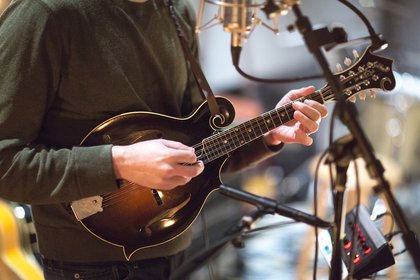 June 1, 2019
1 p.m. - 2:15 p.m.
MANDOLIN BASICS Workshop taught by Ron Gordon
Saturday, June 1, 2019 1 pm - 2:15 pm
$20 Call (585) 473-6140 to reserve your seat.
CLASS SIZE LIMITED TO 10 PARTICIPANTS
Handouts provided and recording devices recommended.
This class will provide you with many techniques and tips to improve your playing.
Mandolin is a most versatile fretted instrument. Like the violin, there is a classical repertoire and approach to learning technique; and also a wide range of ethnic, American, blues, ragtime, jazz styles that fit well. You can play lead like a fiddle, and, rhythm like a guitar. We'll learn some of the fundamental finger exercises, scales, and closed chord shapes to either get you started or round out your mandolin endeavors. We'll also learn a few tunes along the way.
You'll have enough here to work on for months. Sound files will be sent out by email a few days before the workshop.
Check out Ron's website, Learn Your Frets. It is an invaluable resource for stringed instrument players.
Call (585) 473-6140 or email julie@bernunzio.com
Share this Event on Facebook.