Silvertone by Harmony 1420L Stratotone
Year:

1962

Condition: Very Good +
SKU:

16849

Case:

Soft Shell
This is a 1962 Silvertone model 1420L electric guitar made by Harmony of Chicago IL USA. It is part of Harmony's Stratotone line. The finish is black with a single-cutaway body style similar to a Les Paul. There's very little fret wear on the guitar and there are tiny finish deep dings on the back and front. Overall, the guitar is extremely clean and in great shape. The neck has a slight bit of relief, but everything works properly and it plays well. It's a very lightweight guitar. It is all original except for the bridge. 24 1/4" scale and 1 3/4" nut.
Email this product to a friend.
Share this product on Facebook.
Featured Artist:
Scott Topel
Visit their website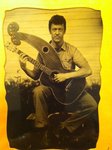 Scott has played for about 20 years, starting in a Zeppelin cover band yet ended up playing fingerstyle guitar and performing all over the country as well as in South America and Scotland. He currently plays solo shows consisting of original compositions, including the music of Martin Simpson, Leo Kottke, Blind Blake, Michael Hedges and Kelly Joe Phelps. Scott is available for hire for HOUSE CONCERTS anywhere is the US. Contact him at STCider@gmail.com to book a concert at your venue/home/studio.